The docents of the Rancho Santa Margarita y Las Flores represent the Command with the purpose of sharing the long and rich history of Marine Corps Camp Pendleton. Through research and study the docents provide well-rounded tours of the Santa Margarita Ranch House National Historic Site, the Marine Corps Mechanized Museum, and The Las Flores Adobe National Historic Landmark.
The docent organization was started in 1975 by Mrs. Rita Nastri to serve the Base Commander's community outreach program. Our service-minded volunteers have a keen interest in the Camp Pendleton history and enjoy sharing it with the military, their families, veterans, schools, guests from surrounding communities, military VIPs, descendants of the original historic families of the Rancho and special guests of the Base Commander. In addition to numerous special group tours, the docents host tours for political and civic groups.

Highlight events include:


September celebration of the Base's Anniversary
The Base Commander's Evening Colors Ceremony
December Holiday decorating of the Ranch House, Docent Potluck and Party, and hosting VIP holiday guests.
Spring school visits as required by the California Department of Education curriculum (4th grade)
Mission Studies
Parades at Fourth of July, Veteran's Day, and Christmas
Displays at the County Fair and Miramar Air Show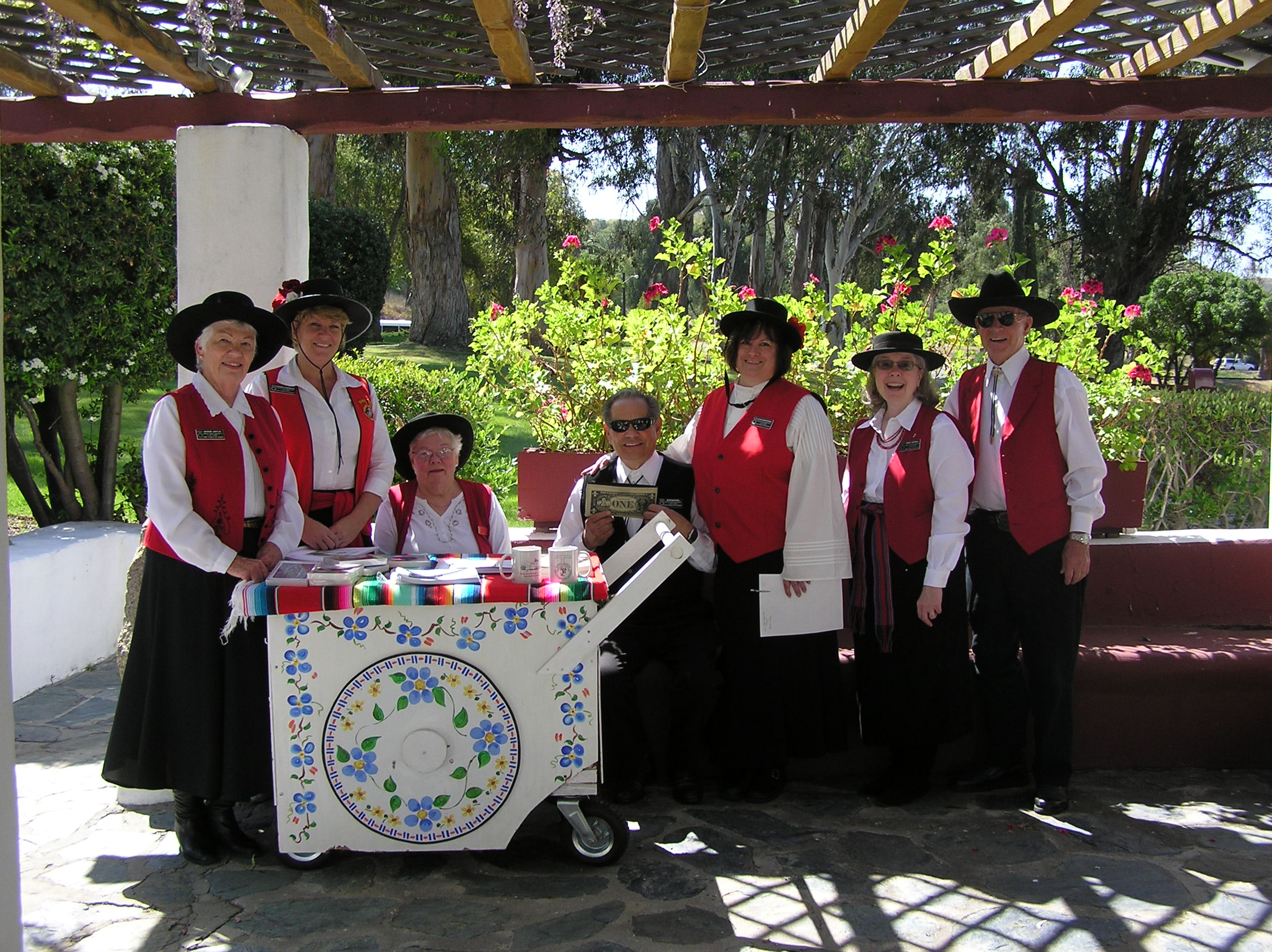 Training is provided by seasoned docents, the history and museum office staff, and guest speakers. Each new docent reviews tour policies, routines, and receives a complete tour of the Ranch House Complex with all the highlights pointed out and explained. All are provided a bibliography together with numerous handouts for background reading.
Our costume represents the early Californians and was adopted after a good deal of research. We are well known for our authentically inspired black toreador hat, distinctive gaucho or long black skirt, white blouse with a red vest for women and black hat, vest and trousers for men.
The history and museum office manages the Ranch House Complex, the Marine Corps Mechanized Museum and the Las Flores Adobe to include their collections.
The museum specialist serves as Base Liaison Officer with the docents. The Office also houses the Base Archives which include The "Men and Women With a Desire to Serve" history.

Apply to the Docent Program
People with a wide range of interests both male and female, find a special niche with the docents. While most prefer to provide quality tours while telling Camp Pendleton's fascinating history, others carry out needed research, documentation, restoration, and preservation duties of the Base's original photograph, map and document collections.
Contact: CampPenRanchHouseTour@gmail.com